Last month we took Stella to Bardsea, it was her first outing since the IVDD incident earlier in the year, so we were a little on edge about putting her up to a proper trip with a fair bit of walking. It all went really well and we had a great time though! Here's what we got up to!
Four dogs and a car
We were spending the weekend with our friends who have three dogs – Rolo, Clifford and Mabel. Getting them all in a car sounds like hell, right? It's actually not that bad. Rolo and Clifford (the two bigger dogs) sit in the roomy boot of the car, they're very well behaved and just lie down for the journey. Stella goes on Terry's lap, and Mabel was the puppy of the group and sat in a box between the two of us in the back.
Both Mabel and Stella suffer from a bit of travel sickness, especially on windy country roads. We've personally been prescribed Trazodone for Stella whilst driving, as it helps her anxiety and she pretty much just lies down and rests for the journey. If I recall Mabel was on travel-ease, but I'm not 100% sure. Both of them were fine for the trip though and we had possibly the most peaceful car ride with four dogs anyone possibly could? Win!
Adventures in Cumbria
We stayed at the lovely Swallow Cottage AirBNB. The host was amazing to let four dogs in, granted they are all house trained and she was of the opinion that if you have one dog there's not much difference adding any amount after that.
The AirBNB was a five minute walk away from the beach, and we had a great time!
One day we did a long walk across the beach, we were lucky to find a mild, overcast day so the dogs weren't too warm and neither were we. Temperature is always an issue for Stella and Clifford (the golden retriever).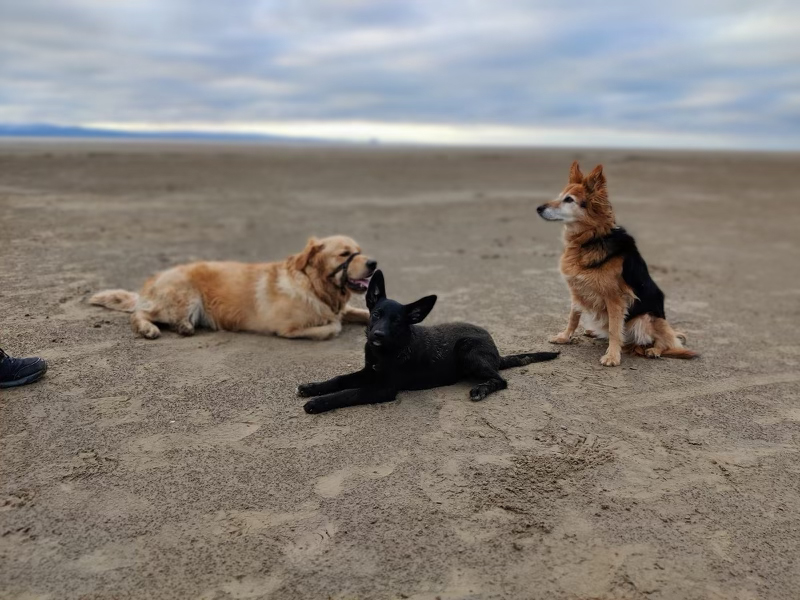 It was a nice quiet week day and we were able to let everyone off the lead for a bit, it's really nice to be able to do that sometimes, living in the city centre back home we keep Stella on the lead at all times, she doesn't tend to run off often, but it's not really worth the risk.
The four of them played until they were tired and we walked back, we spent two, maybe three hours there, so towards the end of the walk back Stella got a little tired and we picked her up for the walk back.
Clifford was in his element, he ran in the water like a giant free-spirited puppy.
As well as the trip to the beach we also spent half a day in Coniston, but because it was bank holiday and really busy we pretty much just had lunch and came back.
The AirBNB was a great choice for us, there was plenty of room, and it was affordable and convenient for what we wanted to do. We did stop by a Booths and get a bunch of necessities; loo roll, orange juice, rum? You know, the essentials.
We've planned another similar trip for New Year, and we're really looking forward to it!